A me Aloha pumehana, I greet you with warm-hearted Aloha!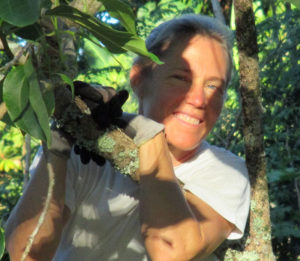 Here in Hawaii there is a saying "He kaua ka kanaka, a me ka 'aina ka ali'i" which translates as  "Man is the servant, the land is chief".  I am very much a servant and steward of the land, a guardian of the earth, and in Hawaiian terms, a Kahu 'o ka 'aina. The earth is my temple, and nature my guide. In this way I find peace of mind and a blossoming heart. I learn to listen. I learn to recognize the spirit in all things.
I have made a sacred vow of reverence to the earth. Mother Earth has many names throughout the world and across time; Gaia being one of them. Here in Hawaii, I like to recognize Pelehonuamea, Pele of the Sacred Earth. Pele is the elemental force that has and continues to create the land we walk upon, the land that sustains us. It is in honor of Pele, and in honor of all of the ancestors that are present in this wahi (place), that I offer service. It is a deep honor and privilege to be a care-taker here upon sacred Hawaiian lands, in the piko (center) of the Great Pacific.
In my experience, living here has been a portal into a transcendent reality into deeper knowledge of self and of the mysteries of the universe . In honor of the land and Hawaiian culture, it has been my practice for a number of years, to perform sacred ceremony every new moon at my  personal ahu (altar). Much of this ritual observes Hawaiian protocol. As a non-native woman from Canadian country who has had the privilege of stewarding both my personal place in Koa'e/Kapoho for over thirty years, and the beautiful State rainforest of Keau'ohana for the past seven, I feel it is my kuleana (responsibility), to show gratitude and support to the land and its people.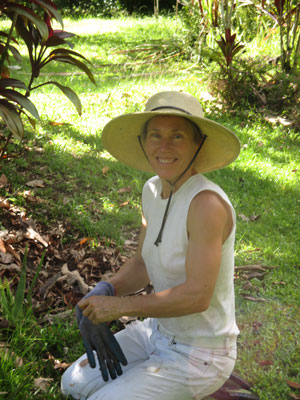 I aspire toward a deepening sustainable existence, by growing a large variety of food on my farm, and by minimizing my reliance on external resources. My dedication to Keau'ohana, despite the heart-breaking effects of Rapid 'Ohi'a Death (ROD), and the continual onslaught of invasive species, has been and is, my testimony to the earth. As an isolated archipelago, Hawai'i is a microcosm that sits at the forefront of  the earth's environmental collapse. The environmental issues that we face here very much represents our future, and the choice before us. It is clear there is only one choice concerning the environment, and that is to work together toward betterment.
I share with you a saying that our beloved Hale Kealohalani Makua has shared with us, which inspires me greatly…
"Love all that you see with humility
Live all that you feel with respect
Know all that you possess with discipline".