Please join Keau'ohana Rainforest's enthusiastic supporters to help restore the largest and most intact lowland forest remaining (<1,000ft) in the State of Hawai'i. This is a special opportunity to also learn about native species and issues of plant invasion that compromise the health of our local environment.
In order to volunteer, please begin by signing up below. This will put you on the volunteer list, and subscribe you to our monthly newsletter.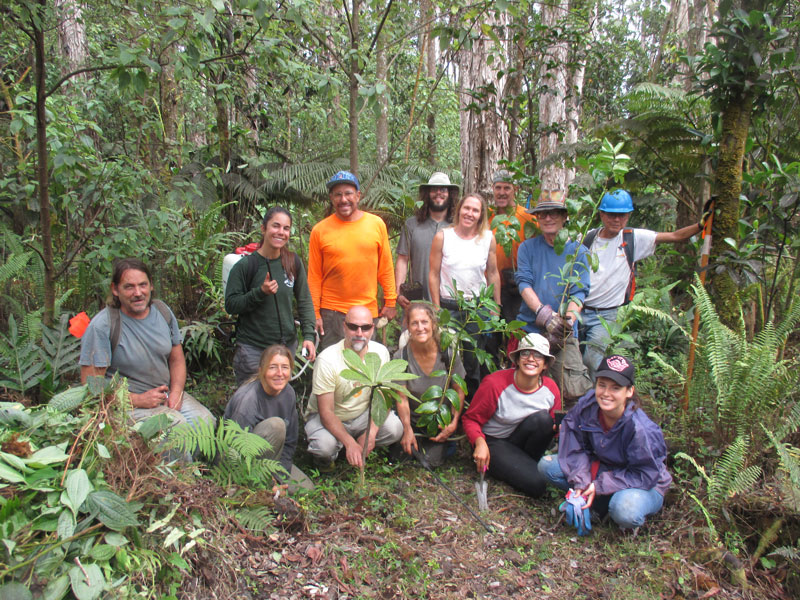 Also, registration is required through the contact form for all volunteering; sorry but no drop ins will be allowed at this time.
Keau'ohana is a beautiful native forest, but please be informed that the terrain is a very brittle and uneven therefore difficult to walk on; please be equipped with rugged footwear. Also, the forest canopy has been affected by Rapid 'Ōhi'a Death (ROD) and there has been quite a loss of canopy in many areas; please bring sun protection.
Please bring long clothes, sturdy shoes/boots, hat, gloves, rain gear, mosquito repellant, snacks and drinking water; also please fill out and bring the volunteer waiver form. 
Keau'ohana Forest Reserve
Located between mile markers 16 and 17 on HWY 130, between Pahoa and Kalapana.