Hawai'i Plant World Essentials
A guide to making wise plant choices
As we continue to lose many native ecosystems to urbanization, agriculture, and invasive species in Hawai'i, there is a growing need to restore and conserve a full range of native biodiversity and forest types across the entire elevation gradient. Though the process of invasion by exotic species at lower elevations cannot be entirely reversed, remaining native plant species and communities can be supported in their re-establishment and resilience. The State of Hawai'i to this day does not prioritize the inspection and monitoring of plant species being imported into Hawaii, while yet being equipped for this very process concerning plants being exported. This is cause for the introduction of numerous new plant and animal species with each year, compounding Hawai'i's very serious invasive species predicament.
With focused community awareness and intention, lowland vegetation communities, and the general lower elevation landscape, can be greatly improved in native biodiversity and ecosystem health. Clarifying the distinctions between native, Polynesian-introduced, non-native, and invasive plant species is key to preserving what little remains of Hawai'i's native lowland rainforests, and supporting the biodiversity and vitality of Hawai'i's low elevation landscape in general. A list of some of the more common lowland species found within these groups is provided in this manual, along with images to help with species identification.
In developing this manual, Jaya's hope is to promote awareness of low elevation vegetation, to inspire the appreciation and re-integration of native species into our lowland environment for esthetic and natural history purposes, as well as to support the control of introduced species that threaten native forest integrity and environmental balance in general. This guide offers a practical and fundamental approach to helping landowners and local residents make informed decisions about plant control and propagation choices in Hawai'i. Despite some plant variations, the information provided in this booklet can generally be helpful to landscapes across the Hawaiian Islands.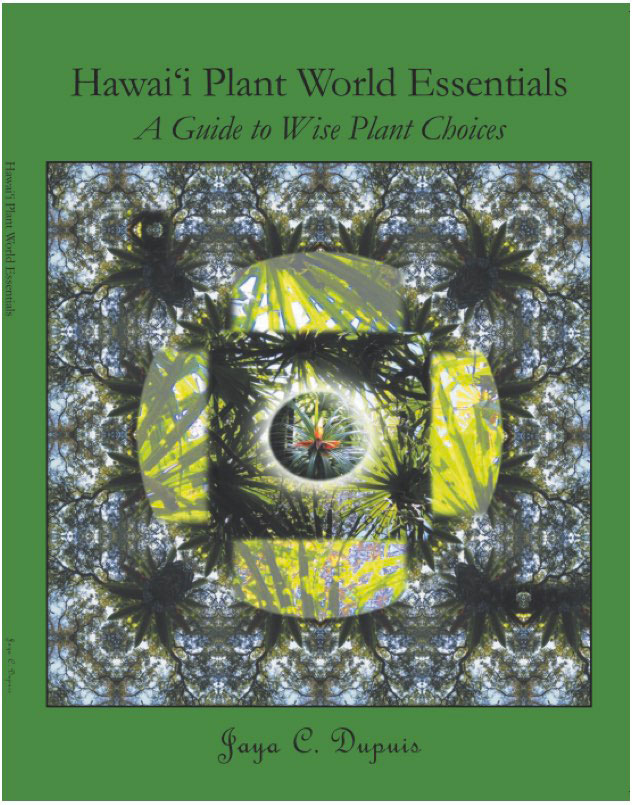 Download a preview PDF of the first 17 pages.
Proceeds from Amazon sale of this book go to the HER non-profit
– Books can be purchased at Island Naturals and Basically Books in Hilo
– Local residents can purchase directly from author dupuis@hawaii.edu 
To order a hard copy for $29.95

Or buy the $20 E-Book by Paypal or Credit Card