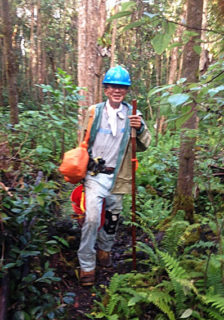 Born and raised in Hilo Hawai\'i, Masa has been Keau\'ohana\'s most dedicated volunteer since the restoration project\'s official onset and blessing by Kimo Blankenfeld of the Kalapana 'ohana and ahupua'a in 2014.
Masa learned from an early age the value of Kokuale\'a \"To Assist Others with Joy\", taught to him by his Father, Ryoji Sumida, and his Godfather Martin Pence. One of his many tasks as a young man was to assist elderly people in Puna, Kurtis Town, and Volcano in cutting strawberry guava trees as kindling for their nightly \'furo\' baths.
It is no wonder that Uncle Masa's primary task in the Keau'ohana forest for many years was to break down and consolidate the larger dead strawberry guava stems into organized compost piles (strawberry guava being the worse invasive species in the State of Hawai'i). Masa also helped to keep the 2-mile trail system clear of fallen trees and deadwood. He has worked very hard in the forest with his own personal Ryobi equipment to keep things safe for workers, volunteers, students, and forest specialists. Today he focuses on improving the volunteer loop for safety and ease of walking for children and elders. Masa is known around the island for his Kokuale'a, as he takes much pride and joy in helping others in so many ways!