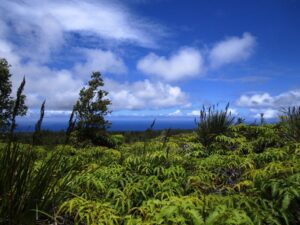 A Deputy Regional Forester meeting was held May 22nd to discuss forest restoration in light of Rapid 'Ohi'a Death (ROD), which included a splendid hike up to Pu'u Heiheiahulu, a very important facet of Wao Kele O Puna's 126,000 acres located above Keau'ohana.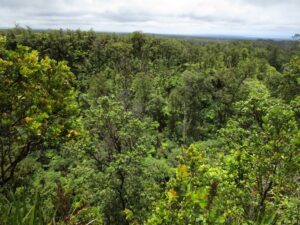 Wao Kele O Puna is the largest remaining native lowland forest above 1,000 feet, and the view from the pu'u was astounding as we looked over vast early succession 'ohi'a/uluhe forest. We also had the privilege of glimpsing into the pu'u from its rim at a protected native remnant of stunning biodiversity, where large colonies of the endangered ha'iwale (Cyrtandra nanawalensis) were recently discovered.
This was certainly a highlight to the day, which Kalena and Kirk from Office of Hawaiian Affairs (OHA) graciously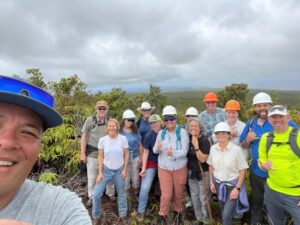 facilitated for participating United State Forest Service (USFS) representatives of Califonia, O'ahu, and Hilo. Big Island Invasive Species (BIISC), and Hawaii Environmental Restoration.
A visit to Keau'ohana followed, in which discussion was held about HER efforts over the past decade, as ROD progressed in conjunction with HER intensive restoration measures. HER crew has witnessed the collapse of our primary native canopy to ROD, as it worked hard to secure the Keau'ohana understory. HER persists in its mission to protect what remains among the last of Hawaii's biodiverse native lowland plant assemblage despite the dramatic effects of ROD.
We all hope there will be a future turning point in which shade will be re-established on the site, but even as a more open forest, Keau'ohana serves as a necessary living classroom of native biodiversity, vegetation issues, and restorative solutions. It is an invaluable representation of the past and the stark reality of human impact.