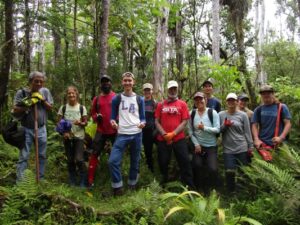 HER Summer Solstice volunteer event on Saturday June 18th was attended by many bright spirits in celebration of the last longest days of the 2022. Between 12 of us, we accomplished 48 volunteer hours, clearing a large section in the lower East Volunteer loop. Clouds helped subdue the summer heat as we comingled in the forest, pulling out the many intruders. We even had a new volunteer chainsaw several large trees laying across the path, making it clear for our forest crew! And of course, our dear Masa contributed his usual breakdown and consolidation of nearby dead stems and limbs.
It was so heartwarming to see our dedicated Keau'ohana community members working alongside sparkling new supporters. We are thankful to each of you for your energetic interest. Hard work was made easy, and spirits elevated. Hawaiian hawks accompanied us to the end indicating happy ancestors looking upon us!
                             Mahalo Ka hele ana mai – Thank you for coming!