HER has received great news, that funding for the fencing of Keau'ohana has been approved by the State, and is proposed to begin in early 2024! This will greatly support our restoration efforts against the harmful effects of feral pigs to the forest floor, and help secure our delicate out-plantings.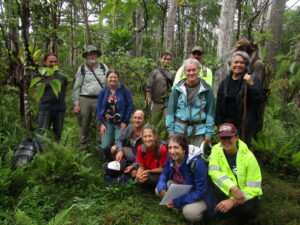 In light of this, the Lowland Wet Forest Working Group (LWFWG) gathered this month in Keau'ohana to discuss important restoration questions. HER is excited to increase the planting component of our efforts once the site is fenced in, and this event helped to affirm our dedication in continuing to focus on a native composition, despite the challenge presented by open canopy conditions due to ROD.
We will be exploring more with direct seeding of abundant native species such as hala and neneleau in the interior, and milo on the exterior edges of the site. We will also be increasing the number of outplanting species to include more akia, alahe'e, loulu, ho'awa, papala kepau, and the usual 'ohe; as well as introducing new ones into the site, such as Ko'oko'olau, uhaloa, uki, ulei and more…
HER walk-about in the forest site with other forest specialists and supporters was very inspiring and productive to HER!