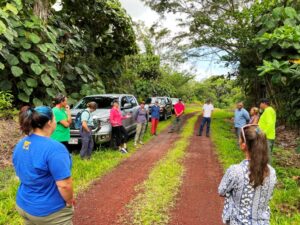 HER joins the Lowland Wet Forest Working Group (LWFWG) to discuss restoration issues and strategies in our region. This is invaluable opportunity for forest specialists focusing on various local restoration projects to network and support one another in the choosing of restoration species; a serious question for the future of Hawai'i at this time of environmental crisis.
As part of this exchange, we will be visiting one another's sites to discuss this particular question for each location.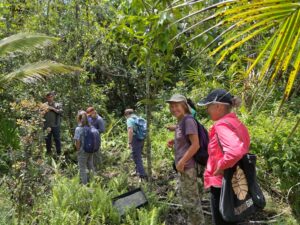 Our first visit was on May 5th at the Keaukaha Military Reservation (KMR), where Becky Ostertag from the University of Hawaii at Hilo (UHH), and Susan Cordell from the Institute of Pacific Islands Forestry (IPIF), have been developing experimental plots under the Hawaii Army National Guard Environmental Program over the past decade.
HER enjoyed the occasion to witness in action the current results of their research with hybrid ecosystems, utilizing mixed native and non-native species to reduce invasion, promote native biodiversity and sequester carbon. Through this partnership we hope to develop a climate-resilient restoration approach that combines functional traits, climate, and geographic data in building plant communities that improve ecosystem functioning and are self-sustaining.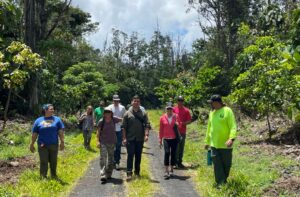 Thus far HER out-plantings in Keau'ohana have focused on native species alone, but due to the dramatic effects of ROD on the site, we now consider the possibility of integrating a few non-native/non-invasive species for the building of much needed shade. At this junction, we may utilize a mixed approach in which more intact areas within the site remain entirely native, while more open disturbed areas receive a different treatment. Already some monkey pod trees have been planted on outer edges to clearly separate the site from the threatening invasion.