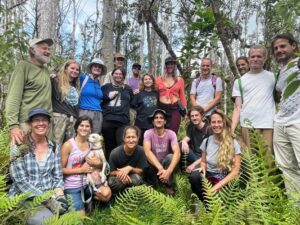 A healthy 20 volunteers showed up in Keau'ohana for Native Hawaiian Plant Month  on April 17th, and  55 native seedlings were planted by noon! Earth Week has also been properly celebrated by this special occasion!
It is rewarding to receive local community assistance, 9 of whom are members of  Hawaii Eco Retreat (HER, just as ours) on the Red Road! They were very inspired by the event and have requested exploring a regular partnership; HER joins HER in a shared mission of caring for the land! We welcome their 'ohana warmly to help support our shared community native rainforest of Keau'ohana!
Thanks to all who participated in this successful occasion; we sincerely appreciate you taking part in  betterment and beauty upon this precious earth! And let us not forget to give Ann Kobsa yet another warm thank you for her generous plant donations that continue to enrich the forest's integrity!