On Saturday March 19th, HER first quarterly forest volunteer event of the year was indeed celebrated in honor of Spring Equinox for new beginnings! 
Our good friend Pat Conant from up Volcano, with the help of a few other Volcano Volunteers, loaded his truck with over 70 hapu'u from his land, and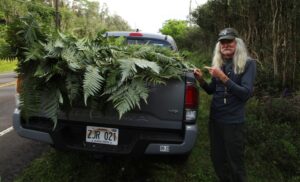 generously delivered to us on the morning of the event! Though Pat continues to assist in the biological control of weeds, he is retired from the State Dept. of Agriculture where he was an Entomologist in the Plant Pest Control Branch for many years.
HER is grateful to all 23 volunteers who came through on a glorious day together for the health and well being of Keau'ohana. Hapu'u is an important addition to the shade bearing 'ohe trees we have planted in the past. All hapu'u were planted in the volunteer swath in the near interior; some of them were taller than those of us planting them!   We are hopeful that one day, the entry into the forest will offer the sweet shade of a restored Rainforest!