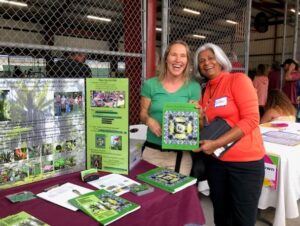 Community members visibly appreciated connection around our shared resources at the April 11th Revitalized Puna Event in Kea'au. The occasion was alive with interest as Hawaii Environmental Restoration welcomed many new volunteers onboard!
Tabling at this event was fruitful in so many ways as we engaged with active community members regarding renewed educational possibilities in schools. Several enthusiastic teachers have voiced an interest in implementing an environmental program for kids to learn their plant species in creative and engaging ways. HER looks forward to expanding in its collaborations within the community in this way as well!
Many organizations contributed support to the community in so many forms during this event! Resilience commitments include park and road recovery, village developments, enhanced food systems, emergency preparedness, painting pahoa town and more. A big thank you to our Puna Representative, Ashley Kierkiewicz and her fabulous team, for bringing County and Community together once again!