Earth week, National Volunteer week, and Hawaiian Native Plant month were celebrated with zeal yesterday, the 18th of April; and not a drop of rain after such a very wet period! Thirteen volunteers totaled 47 volunteer hours along with two paid crew workers, and my self.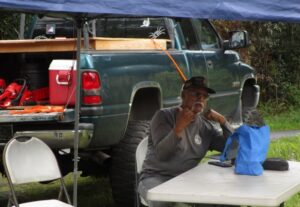 We arrived at the forest parking entrance to find it weed wacked and attended by our Black Sand security volunteer, Gilbert Hauanio! Efforts began after protocol, with tending the east, central and west volunteer areas as three separate groups, in preparation for the planting of 44 seedlings.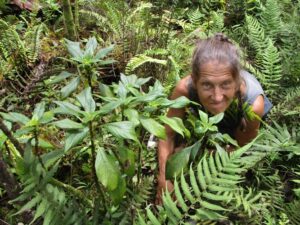 Ann Kobsa, also present, donated a great variety of species including 'ohe, loulu, lama, ohi'a, kopiko, kolea, alahe'e, and kolomona; and Linda Larish, our Sierra club volunteer contributed 24 mamaki seedlings.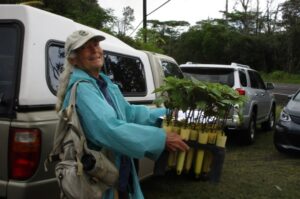 We are so grateful to our community members and to those travelling from abroad for coming to make a difference in our beloved rainforest of Keau'ohana!
Mahalo Nui Loa to all!