Land Clearing and Uniting
Earth Day was imbued with mana (power) and meaning as we performed a sacred ceremony for dear friends who recently acquired properties both in Puna area. Kanako and Ashley, as well as Desiree  and Brandon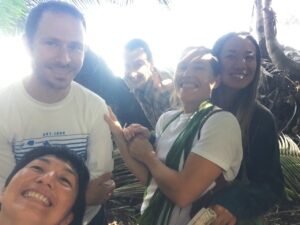 , were two happy couples as we joined to cleanse the land, and confirm their spiritual ties and commitments as official guardians and stewards.
It is indeed a sacred kuleana (responsibility) to own land, especially on land that is not native to us. Part or HER intention in offering this rite of passage, is to give newcomers an opportunity to enter a sacred rapport with the earth here; one that honors and perpetuates the Hawaiian culture.
The chanting of "Kunihi" initiated an official and spiritual request for permission to enter the grounds; we then quietly walked to a modest central ahu/altar were the pu/conch welcomed in ancestors from the four directions; chants and pule/prayers were offered pri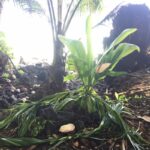 or to the clearing; and then a small traditional-type  ho'okupu/gift offering. The couples will plant ti on both sides of the entrance, and at the four corners of the property for endured protection.
The ritual was followed by discussion about questions of vegetation, in support of native plant species, Polynesian (and other beneficial) introductions, and invasive species' control. This manner of entrance is for those wishing to show appropriate sensitivities as they endeavor to create a harmonious and sustainable existence with the land's inherent ancestors, natural spirits and elementals.