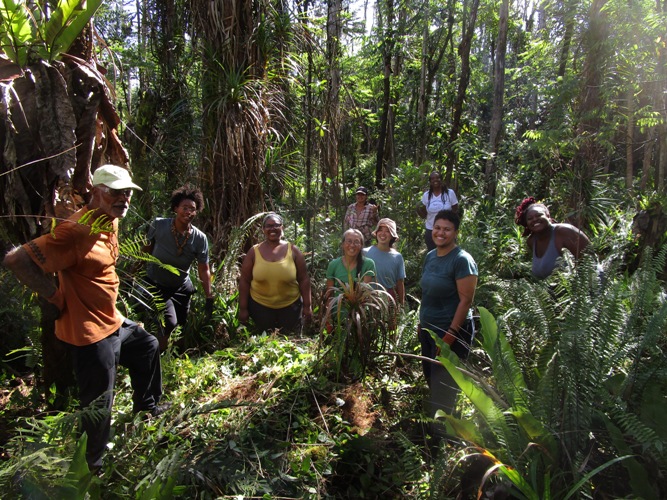 Yesterday was a shining afternoon in Keau'ohana with a special group of BIPOC Femmes/Nonbinary practitioners of Iyengar Yoga, who came to Hawai`i Island for a yoga retreat. The participants came from across the United States and abroad. BIPOC, which stands for Black/Indigenous/People of Color, is an acronym to recognize the struggles that people in Black and Indigenous communities share.
The retreat focused on the particular needs of women and nonbinary folks of color in embracing yogic practices of wellness and rest. They came to HER to learn about native plant life, Hawaiian culture, and engage spiritually with the `aina. They found the work of tending the `aina arduous, but satisfying and meaningful. "We especially appreciated the native Hawaiian protocols with Ariana and Thomas," said Gwi-Seok, an organizer of the BIPOC retreat along with Misia Denéa.
Indeed, active local crew member of Hawaii Environmental Restoration, Arianna Arakaki, and cultural advisor, Thomas Brennon were radiant in their positions of leadership! The afternoon was rich as everyone worked together, and as always, it was so satisfying to look back at our efforts and see how much was done in so little time.